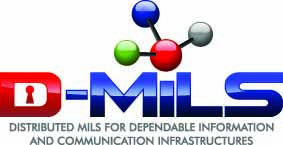 Modern critical systems bear great responsibilities and face escalating challenges. They require strong guarantees on their safety. MILS provides compositional system construction and assurance, leveraging individually developed and assured components to provide these guarantees on composite systems. Using small, assured components in a well-understood infrastructure, MILS can assure the safety of the combined system. In Distributed MILS, we are building a platform upon which such systems can be deployed, enforcing restrictions on the infrastructure, so that the system is indeed as safe in practice as in theory. At RWTH, we are working on the question of compositional verification: given the properties of the building blocks and how they stack up, how safe is the entire structure? 
The D-MILS project is a continuation of the successful COMPASS project, building upon existing verification tools to bring high assurance to a new area: information and communication systems. The project is carried out by a consortium of Fondazione Bruno Kessler (FBK), fortiss, Frequentis, LynuxWorks, The Open Group, TTTech, Université Joseph Fourier (UJF), University of York and RWTH. 
For more information, visit the project website at www.d-mils.org.