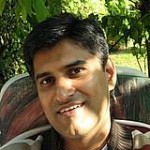 Email

falak.sher.vira at cs.rwth-aachen.de

Address

Room 4206
Ahornstraße 55
D-52074 Aachen

Phone

+49 241 80 21210
Research
I am a doctoral student in the chair of Prof. Dr. Ir. Joost-Pieter Katoen at RWTH Aachen, and currently writing my dissertation on game-based abstraction techniques of probabilistic systems.
Analysis of reactive, stochastic, real-time, and hybrid systems,
Reduction techniques for probabilistic systems using game theory,
Formal software verification, in particular model checking,
Formal modelling and analysis of distributed computing,
Game theory, Petri Nets, Process Algebra, Concurrency theory,
Teaching
I have assisted the following courses during my stay at RWTH:
Introduction to Model Checking,
Advanced Model Checking,
Modeling Concurrent and Probabilistic Systems,
Theoretical Foundations of UML,
Lab Course on Model Checking using the Spin tool.

Awards and grants
Microsoft Innovation Award for the best master thesis Compositional Abstraction for Probabilistic Automata in 2010.
RWTH master student scholarship for the years 2009-2010.