In 2015 the annual D-CON meeting of German scientists working in the area of Concurrency Theory will take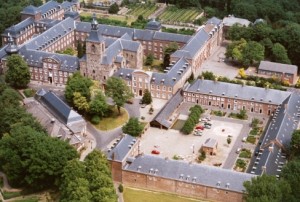 place on the 5th and 6th of March at Rolduc Abbey. The meeting is organised by RWTH Aachen University, Lehrstuhl für Informatik 2 (Software Modeling and Verification). Responsible organisers are Christina Jansen and Thomas Noll.
The D-CON meetings led to the formation of and are supported by the closely related GI-Fachgruppe Concurrency Theory.
Important Dates
D-CON meeting 2015: 05.03. – 06.03.2015
Arrival and pre-dinner: 04.03.2015
Registration: until 07.01.2015
Topic proposal: until 30.01.2015
Announcement of preliminary program: 16.02.2015
Venue
D-CON 2015 will be organised at Rolduc Abbey, a 900-years-old monastery. It is located close to the Dutch-German border, approx. 10 kilometers north of Aachen city. It is easily reachable by car or (on the German side) from Herzogenrath railway station using bus line 30. Regarding flight connections, we refer to this page.
Accomodation is provided in either single or double rooms with own bathroom. The prices for the conference package including meals are as follows:
| Category | Single Room | Double Room |
| --- | --- | --- |
| 1 Night | 138.55 EUR | 123.55 EUR |
| 2 Nights | 195.00 EUR | 165.00 EUR |
Registration

Registration to D-CON 2015 was possible until 07.01.2015
by E-Mail to d-con2015@cs.rwth-aachen.de
Please include in your e-mail if and for which dates you would like to book an accomodation at Rolduc Abbey (and your preferred room category).
Past D-CON Meetings
D-CON 2009 at Berlin
D-CON 2008 at Duisburg